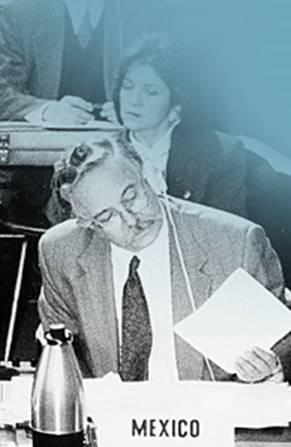 Miguel Marín Bosch, a distinguished diplomat from Mexico was one of the early and enthusiastic supporters of IPFM. He supported the initial idea of the panel and participated in the April 2005 workshop in Washington, DC, that explored the idea of the panel. He joined the panel in 2006 when it was set up.
Born in Mexico City in 1942, Miguel was educated as a historian at Yale and received a Master's degree and PhD from Columbia University. He joined Mexico's Ministry of Foreign Affairs in 1969. He served as its Permanent Representative to the UN Conference on Disarmament from 1989-1995, and as Deputy Foreign Minister of Mexico for Africa, Asia, Europe and multilateral affairs, including disarmament from 2000 to 2002.
In 1994, Miguel chaired the first year of the negotiations on the Comprehensive Nuclear Test Ban Treaty at the United Nations Conference on Disarmament in Geneva. He also contributed to achievement of the Chemical Weapons Convention and the Land-Mine Ban Treaty.
Miguel was well described by US Ambassador Thomas Graham Jr in Disarmament Sketches: Three Decades of Arms Control and International Law. Writing about the 1995 NPT Review and Extension Conference, Ambassador Graham observed:
For twenty-five years, Mexico had been a thorn in the side of the United States at disarmament conferences ... Miguel Marin Bosch was seen by many as our greatest antagonist ... He was brilliant, witty and charming.
After his retirement in 2002, Miguel continued to give his time to disarmament issues. He served as Director-General of Mexico's Diplomatic Academy (Instituto Matías Romero), and was a professor at the Universidad Iberoamericana in Mexico City. He also was the founder and president of Desarmex, a non-governmental organization working on disarmament and arms control education. He was the author of five books on disarmament, international relations, and history.
IPFM member Rebecca Johnson who perhaps knew Miguel the longest, remembers the "unfailing kindness and generosity he showed to me and and so many NGO representatives and younger diplomats. He taught us so much about diplomatic strategies and tactics, and was one of the wisest and most passionately committed of his generation."